Tony Romo is having an atypical summer. Flying under the radar for the first off-season in a long while, the Cowboys' Pro Bowl quarterback and one-time pin-up is free of hassles like lurking tabloid press, the celebrity lady friends who invite them, and incessant questions about botched holds or mercurial wideouts who go by initials like "T" and "O".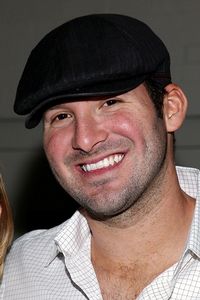 Mike Coppola/Getty ImagesAmateur golfer Tony Romo Tuesday will try to qualify for the Byron Nelson Championship.
These dog days, the NFL's most eligible bachelor has smaller fish to fry -- and jumpers to drain.
"I'm on my way to play in a basketball game for our church league," he said Monday in a phone chat from Dallas. "I play once in a while, whenever they need a spot-up shooter."
He's also tending to business. Tuesday, Romo will pop-up on NBC's "The Biggest Loser," the reality series that sees fat people get skinny, often with help from famous people. Romo, who taped his appearance in Malibu in February, will join contestants for a hike and attempt to inspire them with his words.
"I tried to get across what an inspiration these people are -- not just to their families, but to anyone who's struggling with a challenge," he said. "It's a fantastic show with a great message."
It's also product placement. The appearance was arranged through his partners at Starter. "You'll see some of our product on there, Starter gear, which is available at Walmart," he acknowledged while sneaking in a pitch. "It's a win-win."
Actually, Tuesday could be a win-win-win. The amateur golfer is scheduled to tee-off at the Stonebridge Ranch Country Club in McKinney, Texas, in pre-qualifying for this month's HP Byron Nelson Championship. Later in May, he'll participate in a U.S. Open qualifier, his third crack at the major.
"I try to hit about five golf tourneys in the off-season," Romo explained. "I love to compete. I love trying to get better in just about anything, whether it's dropping back [to pass] and footwork or making jump shots. Football takes up our mornings, but I'm an active guy and I don't have any kids at home to take care of. Your arm only has so many throws in it in a given day. A dream off-season day for me is just figuring something new out."