It's official: When it comes to dumb questions, Super Bowl media day has company -- namely, NFL combine interviews, where Miami Dolphins general manager Jeff Ireland's infamous query to Dez Bryant (asking if his mother was a prostitute) is simply the tasteless tip of a mind-numbing iceberg of stupidity.
To wit: McDonald's or Burger King?
Pillow or blanket?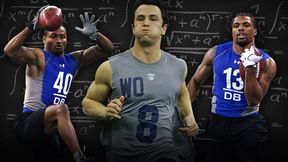 ESPN.com Illustration
So went just two of the silly questions asked of draft prospect Geno Atkins, whose stated fast-food hamburger preference clearly predicts his future pro football performance. In turn, inquiries like that make Page 2 wonder: Are combine interviews more moronic than media day? Are they even more frivolous than the famously frothy Cosmopolitan magazine quiz?
There's only one way to find out. Take our quiz below, and see if you can identify the source of each question: NFL combine, Super Bowl media day, or Cosmo?
Your future employment as an NFL GM may depend on it.
1. Are you straight or gay?
(a) Combine
(b) Media day
(c) Cosmo
2. Do you believe in voodoo, and can I have a lock of your hair?
(a) Combine
(b) Media day
(c) Cosmo