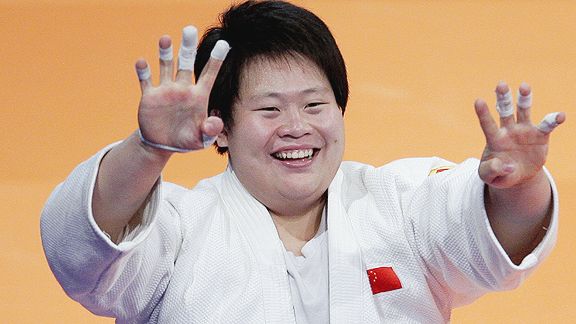 Ed Oudenaarden/AFP/Getty ImagesTong Wen should have ordered the chicken.
When it comes to failed drug tests, I thought I'd heard it all. It's so rare to find an athlete who will cop to using performance enhancers or illegal substances. Instead, we often get spun a yarn that would impress the Brothers Grimm.
But even they wouldn't buy what the coach of China's Olympic judo champion Tong Wen is selling.
Tong, 27, has been stripped of her most recent judo World Title for testing positive for clenbuterol, a substance that athletes illegally use to build muscle but is commonly used to keep pigs lean. Her coach, Wu Weifeng, is blaming the failed test on the latter.
"She trained in Europe and was sick of the food, so we gave her a lot of pork chops when she came home," Wu said.
That beats the reigning champion for best failed drug test excuse, Richard Gasquet. The French tennis player claimed he tested positive for cocaine last summer because he kissed a girl in a nightclub who had it on her lips. The unbelievable part, though, is that the International Tennis Federation bought it and let him off with only a short suspension.
Tong Wen won't be that lucky.
Turns out there's a precedent here. Czech tennis player Petr Korda blamed a positive steroid test at Wimbledon in 1998 on eating too much nandrolone-fattened veal.
Just one problem -- scientists determined that Korda would've had to have eaten 40 calves a day for 20 years to explain the failed test.