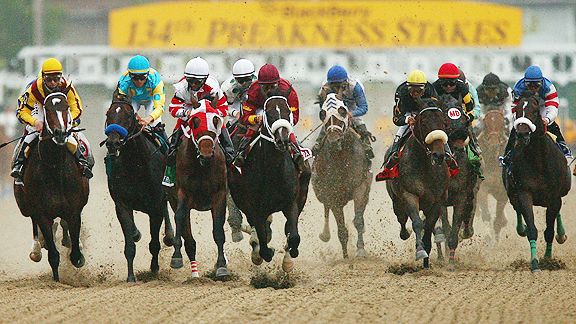 Al Bello/Getty Images
Middle-child syndrome. It's not just for people anymore.
The Preakness Stakes, the second leg of the Triple Crown, is the middle child of horse racing and it's crying out for attention.
Why else would they be using the slogan "Get Your Preak On" to advertise Saturday's race?
The play on Missy "Misdemeanor" Elliott's 2001 hit represents a clear break from tradition -- one that the Maryland Jockey Club, which operates the event, felt was necessary.
"The Jockey Club and racing have been criticized for many years that their advertising and marketing campaigns are same old, same old; nothing exciting," MJC president Tom Chuckas said. "The other thing we've been criticized for is when we do market, we don't target a younger demographic. In looking at this campaign, we basically wanted to target 21- to 35-year-olds. So we had to speak their language."
As a member of that demographic, I can tell Mr. Chuckas we don't speak in terms of nearly decade-old hip-hop songs. There are better ways to update your image and garner new fans.
How about the Preakness's nickname, "The Run for the Black-Eyed Susans"? It's a nice shout-out to your state flower, but it doesn't exactly roll off the tongue and sounds more like a charity race for people who got punched in the face. The Kentucky Derby nailed it with "The Run for the Roses," but there are plenty of other flowers out there to choose from.
I know it's tough living in the Derby's shadow, but follow their example. You don't see them tapping Young Jeezy to sing "My Old Kentucky Home."
I know what you're going through. But it could always be worse. You could be the Belmont Stakes, where no one cares unless the same horse has won the Kentucky Derby and the Preakness. And that happens about as often as a jockey eating a Big Mac.