Athletes love to bust on each other about a lot of things, but few are funnier then when they make fun of weight. Check out 10 of the funniest quotes about weight.
These quotes are from my books, "Basketball Shorts", "Baseball Shorts", "Hockey Shorts" and "Golf Shorts".
1. "Offer him a pizza."
-- Walt Frazier, on the best way to stop Charles Barkley
2. "Frank went out for baseball and while he wasn't very good, it wasn't a total loss. The coach used him as a pattern to drawn the on-deck circle."
-- Pat Williams, on former Jazz coach and GM Frank Layden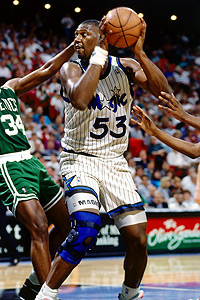 Jon SooHoo/NBAE/Getty ImagesStanley Roberts was the butt of a lot of weight jokes.
3. "Rick Majerus losing 20 pounds is like the Queen Mary losing a deck chair."
-- Al McGuire, broadcaster
4. "I don't need a chest protector. I need a bra."
-- Gus Triandos, overweight catcher, at an old-timers game
5. "It takes a lot of guts to play this game, and by looking at Billy Casper, you can certainly tell he has a lot of guts."
-- Gary Player, on heavyweight golfer Billy Casper
6. "You know the old saying, 'no man is an island.' Well, Stanley comes close."
-- Pat Williams, on Magic center Stanley Roberts
7. "We've got him eating the seven basic food groups and now there are only three left."
-- Pat Williams, on Roberts
8. "He tried to put on 25 pounds of muscle. It looks like 25 pounds of Molson."
-- Pat Quinn, on hockey player Dan Gratton
9. "Ed, you were a victim of circumference."
-- Jimmy Demaret, on golfer Ed 'Porky' Oliver losing a playoff
10. "I think that it's funny that almost all the sportswriters who are always asking why Craig doesn't lose weight are heavier than he is."
-- Sue Stadler, wife of heavyset golfer Craig Stadler
For more funny quotes about sports, check it out here.