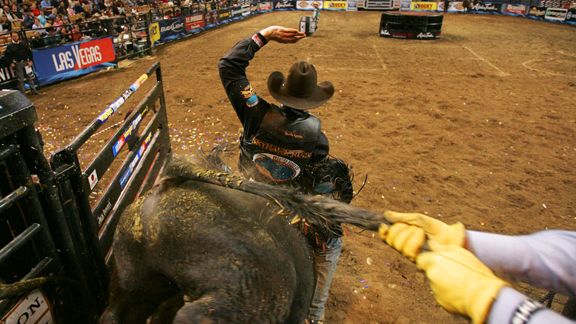 AP Photo/Steven SenneThe PBR is up for Professional Sports League of the Year, along with the NBA, NFL and MLB.
On May 20, SportsBusiness Journal and SportsBusiness Daily will announce the winner of the Sports Business Awards, and one category is quite interesting: Professional Sports League of the Year.
No brainer to see National Football League, National Basketball League and Major League Baseball, but the fourth nominee?
Professional Bull Riders.
Yep. Not the PGA or NASCAR or the NHL or even the UFC.
"We are growing our sport one brick at a time," said Ty Murray, a nine-time World Champion rodeo cowboy and co-founder of Profesional Bull Riders. "It's harder for people to appreciate what we do because everyone can play football, basketball or baseball."
More than 1,200 bull riders compete for millions of dollars of prize money in 300 PBR-sanctioned events in the United States, Australia, Brazil, Canada and Mexico. This weekend, the PBR is at its midpoint of the season with a competition in Pueblo, Colo.
"The best thing about this sport is that the bull doesn't understand politics," said Murray, who has retired to Texas with his family and 250 cows. "They don't care if you are a superstar or it's your first time. That's what makes this sport so thrilling and dangerous all at the same time."