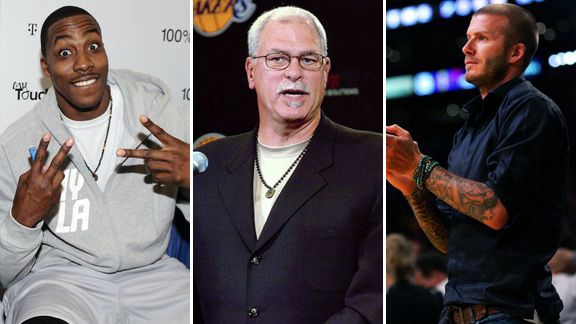 Energy MuseDwight Howard, Phil Jackson and David Beckham are among the athletes wearing the jewelry.
Dwight Howard and his Orlando Magic lost on Sunday to the Boston Celtics in the Eastern Conference Finals. At some point Sunday night, Howard will pop on his Energy Muse performance necklace.
It doesn't matter whether it's a win or a loss, the necklace seems to ground him.
"I've been at peace with myself for awhile," Howard told reporters last week. "I've been able to relax, which is great."
Howard isn't the only athlete to believe there are mystical powers in the jewelry. Los Angeles Lakers coach Phil Jackson, LA Galaxy star David Beckham, Olympian Shawn Johnson, volleyball star Holly McPeak are among a host of celebrities who have been wearing the necklaces and bracelets.
Energy Muse cofounders, Heather Askinosie and Timmi Jandro created the company about 10 years ago that tapped into a diverse audience. For actors, writers, pro athletes and executives, Energy Muse transcended what one might think of as jewelry and has instead become a lifestyle of wearable energies.
"A lot of athletes, actors and influential people say it gives them a competitive edge," Askinosie said. "When they are balanced and centered, they get a kick of endurance and it strengthens their mind."
The gem stones and 500-year-old coins have different symbolisms and strengths. Howard wears "performance", while Jackson wears "protection". Other styles are strength, luck, empowerment, among others.
Askinosie's background in Feng Shui and studies of crystals with healers all over the world enabled her to be the spiritual scientist of the two partners, while Jandro focuses her energy on the company's growth and development.
"Our brand is about educating people," Askinosie said. "We don't pay people to wear our jewelry. Our brand provides the tools of empowerment, inspiration and hope."