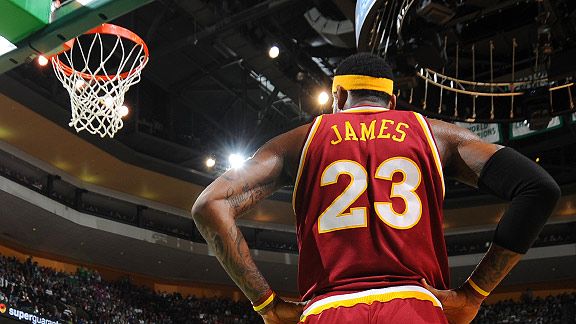 Brian Babineau/NBAE/Getty ImagesShould LeBron James still be nicknamed "King"? We want you to come up with a new one.
King Who?
They call him King James.
At least, they called him King James in Cleveland but who knows what they call LeBron James now? MIA?
As it stands, if James is a king, he is a king without a city and certainly without a crown or a ring. He is a king in nickname only.
So he needs a new nickname.
And that's what we want from you. We need enough excellent suggestions to comprise our LeBron James' Top Ten New Nicknames list that we will publish Thursday. I could make the list but I'm notoriously lazy and love to let you do the heavy lifting by sending your suggestions to osogreene@aol.com.
It hardly seems inappropriate to change his nickname as he already has had a bunch other than King James. There's been The Chosen One, L-Train, LBJ, Bron Bron and, going back to high school, the Akron Hammer.
Don't bother submitting those. You can do better.
You can be sarcastic or you can be funny or you still can be worshipful. You can give a hint as to where you think he'll call home next season. You cannot be outright dirty. Well, you can be dirty but it won't make Thursday's list.
You have until noon Wednesday to impress me.
Who knows? Maybe The Player Formerly Known as King James will like your idea so much that he'll call it his own.
Or not.
Remember -- send your suggestions (one or more) to osogreene@aol.com. And include your first name and last initial, plus hometown. After all, you'll want your 150 seconds of fame.