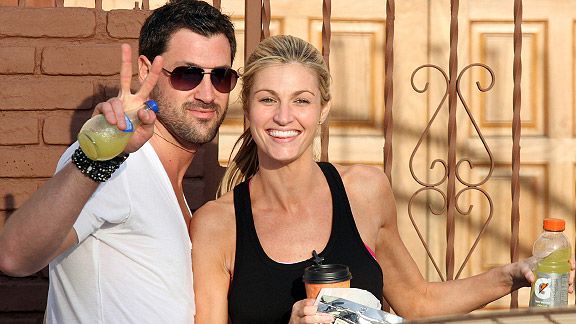 Jean Baptiste Lacroix/Getty ImagesWith two weeks remaining, Maksim Chmerkovskiy and Erin Andrews are wondering "Why not us?"
Evan Lysacek or Nicole Scherzinger.
Odds are that one of those two have been mentioned as likely winner of this year's "Dancing with the Stars" on ABC even though there are four celebrities -- ESPN personality Erin Andrews and football player Chad Ochocinco are the others -- with two weeks remaining.
"Why not us?" said Andrews about her and her partner, Maksim Chmerkovskiy. "That's our new slogan. Why not us? Not to take away from any of the other contestants, but we've made improvements every week. Shouldn't that play a part?"
Andrews is right. In Tuesday's results show, the couple with the lowest combined score from judges and viewer votes will be eliminated from the competition. The scoring is divided evenly between the judges and the viewers at home, ensuring unpredictable outcomes.
Andrews, who is a college football and basketball sideline reporter, is getting the word out to all her friends, coaches and players.
"I need my fans to vote for us," Andrews said. "Maybe our fans got too confident thinking I'd make it along and they didn't need to vote. No, we need everyone to vote!"
Chmerkovskiy, who has competed for seven years without winning, agreed.
"We're not trying to persuade anybody or sway anyone's opinion about how well other people are dancing," he said. "Our campaign is to have people fall in love with us."