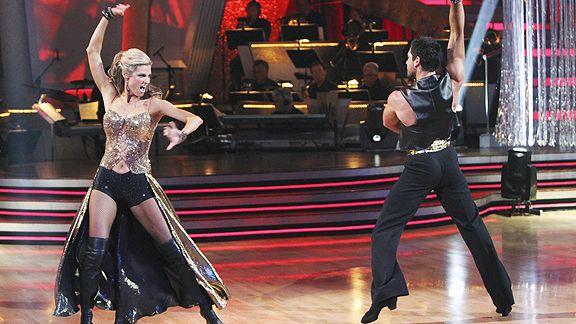 Adam Larkey/ABCErin Andrews and Maksim Chmerkovskiy perform Monday night in "Dancing with the Stars".
ESPN personality Erin Andrews will need some help to make it past Tuesday's elimination show in ABC's "Dancing with the Stars".
On Monday, Pussycat Doll Nicole Scherzinger and Olympic skater Evan Lysacek -- the two leading celebrities throughout the entire season -- were nearly flawless in their performances. Scherzinger and partner Derek Hough, along with Lysacek and partner Anna Trebunskaya, both scored 59 out of 60. They were spot-on in their moves, kicks and outfits.
Andrews and partner Maksim Chmerkovskiy scored a 56, and fourth competitor Chad Ochocinco and partner Cheryl Burke scored a 52.
It's simplistic to just say that Ochocinco will be sent home. The results show is based on judges' voting and fans' voting.
Ochocinco's fans and his nearly million Twitter followers have influenced the voting to keep him out of the bottom two the entire season. Ochocinco even had a contest to fly out six followers to watch him compete Monday night.
If the run is over, Chmerkovskiy said the duo gave it everything they had.
"I'm extremely proud of how well Erin has danced this season," Chmerkovskiy said. "I'm happy to be part of Erin's life through all of this. We created a bond. If the show is over, we go back to our own lives."
And Andrews said, "The show has put a smile back on my face."