PORTLAND, Ore. -- This whole running for Governor of Oregon thing is really cutting into Chris Dudley's NBA playoff basketball viewing schedule.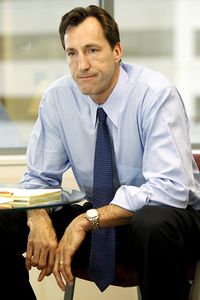 AP Photo/Rick BowmerFormer NBA player Chris Dudley won the Republican gubernatorial nomination for Oregon.
"Dramatically," said Dudley, the 6-foot-11 former center who spent 16 years in the league with the Cleveland Cavaliers, New Jersey Nets, Portland Trail Blazers, New York Knicks and Phoenix Suns. "For the Blazers, I was able to watch, but for the rest it has been tough. I just haven't been able to check it out. Down the stretch, you really don't have days off."
It's one of the many realities the Republican gubernatorial candidate faces with the 2010 Oregon primaries taking place on Tuesday.
As the Los Angeles Lakers eclipsed the Phoenix Suns in Game 1 of the Western Conference Finals on Monday, Dudley patiently wrapped up his last interview of another long day. Of course, he asked what the score was. But after that, it was back to talking politics -- a topic the Yale grad is well versed in since throwing his name in the race back in mid-December.
Dudley is a front-runner, according to a poll conducted for the Portland Tribune, Oregon Public Broadcasting and KPTV. And should he win the GOP nomination on Tuesday, the 45-year-old Dudley will find himself in the low post banging against one of two Democrats -- in former Gov. John Kitzhaber, the apparent front-runner, or former secretary of state Bill Bradbury.