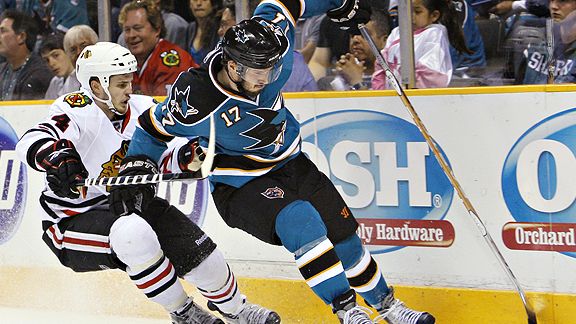 AP Photo/Jeff ChiuGrowing up around the Sharks but working for the Blackhawks has created a rift in the Aldrich family.
After four close regular-season games and one playoff game, there's not a whole lot of love lost between the two teams left standing in the NHL's Western Conference. That is of course unless you live in the Aldrich household.
While many view the Blackhawks-Sharks playoff matchup as Tradition vs. Expansion, battle-tested veterans versus young upstarts, David versus well ... slightly smaller David, to the Aldriches it's father versus son. And for family matriarch, Susie, it has meant choosing between rooting for her husband Mike, the Sharks' longtime equipment manager, or her son Brad, a video coach for the Hawks.
"I have to put the Sharks above the Blackhawks right now," she says. "Mike's been doing this for 17 years and I just feel like he's done his time and he's earned it. I hope for (Brad) someday, too, but I'd like to see the Sharks get it first."
It's a matchup the family has been bracing themselves for since the beginning of the season. All along, both teams have been favored to reach this point. Even though it's hardly a surprise, both Susie and Mike say this matchup is all of their wildest dreams come true.
"Even towards the beginning part of the year, we kind of figured that both teams were gonna compete at a high level this year and we were hoping it would come down to this," Mike says.
"Be careful what you wish for, that's kind of what we've been saying," Susie adds. "It was actually really funny during Game 1 because I know I'm a Sharks fan, but when I got there, it was just so much emotion."
The Aldriches raised Brad and his brother Jason in the family home near the Shark Tank. Both boys grew up as Sharks fans, as well. In fact, Brad says he still follows and cheers for his childhood heroes when he's not working. But how about now that a trip to the Stanley Cup Finals is at stake?