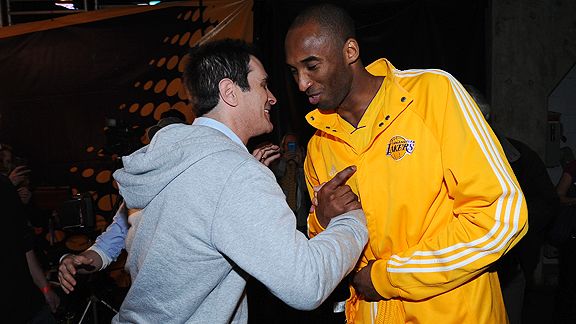 NBA Entertainment"Modern Family's" Ty Burrell hugs it out with Kobe Bryant for a scene in Wednesday's season finale.
Kobe Bryant played a huge role in Monday's Game 1 thrashing of Phoenix, but he'll play a much smaller part in his next performance: a guest appearance in Wednesday's season finale of ABC's "Modern Family."
The new comedy follows three families through the ups and downs of parenting in 2010. Page 2 caught up with Ty Burrell, who plays Phil Dunphy -- the show's dorky but hilarious dad -- to talk about the episode.
What's Wednesday's show about?
Without giving too much away, my daughter Alex [Ariel Winter] and I go to a Lakers game with my step-mother-in-law Gloria [Sofia Vergara] and her son Manny [Rico Rodriguez]. Let's just say that Gloria and I end up sharing a very awkward moment on the Kiss Cam.
What was it like to film at the Staples Center?
Well, nobody knew I was at the Staples Center because I was there with Sofia Vergara. Essentially, I was like a floating shirt next to her.
Are you a Lakers fan?
I'm actually a really hard-core Blazers fan, so what was most interesting about the whole experience was that Kobe could not have been a lovelier guy. That was really difficult for me. And he was just a total natural in front of the camera.
Did it seem like Kobe was a fan of the show?
Yeah, it did. A lot of the feedback we're getting is that people are watching the show a couple generations back and in some instances even three generations -- which is just amazing. So maybe a guy like Kobe is supporting it because it's something that he's enjoying with his kids.
Do you have any NBA playoff predictions?
I want to say that it's going to be the Suns because they knocked the Blazers out. It was a tough but inspirational season for Portland. But yeah, I'm going to stay in the Western conference here and say that Phoenix goes all the way.