Food Network personality Paula Deen and her husband Michael Groover will land in Washington, D.C., Tuesday evening in preparation for Wednesday's full day at the Washington Nationals' game.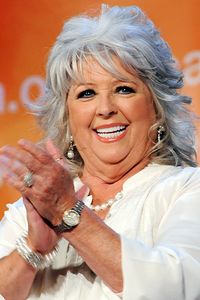 AP Photo/Katy WinnPaula Deen says, "God has overblessed me."
In all likelihood, the scene at the airport will mirror her life the past handful of years.
"One time, just a few years ago, I was walking through the airport with Michael and I noticed all these people were staring at me," the 63-year-old Deen said in a thick Southern drawl. "I couldn't figure it out."
Her husband countered: "Honey, America has fallen in love with you."
Ain't that the truth.
Deen, raising two children as a single mother, began a catering service in 1989. That eventually led to a restaurant, The Lady & Sons in Savannah, Ga., and then a chance meeting with Food Network. The rest is history. She now has written five cookbooks and is an Emmy Award-winning television personality.
"God has overblessed me," said Deen, who married Groover in 2004. "My life is so complete right now. It always takes my breath away with the things I can do. I can't wrap my arms around it."
On Wednesday, Deen will spend a full day talking food and sports. As spokeswoman for Smithfield Foods, she will begin the day talking about grilling recipes. Then, as part of Smithfield's Helping Hungry Homes initiative, she will help donate food to a Washington, D.C., area food bank. Then, she'll host a gathering for 500 military troops. And, finally, she'll throw out the first pitch at the ballgame.
"I just hope, after my long day, that I can get it to the catcher," Deen said. "I'm going to make the most of this opportunity, like I do everything else. I don't know if it'll come around again."