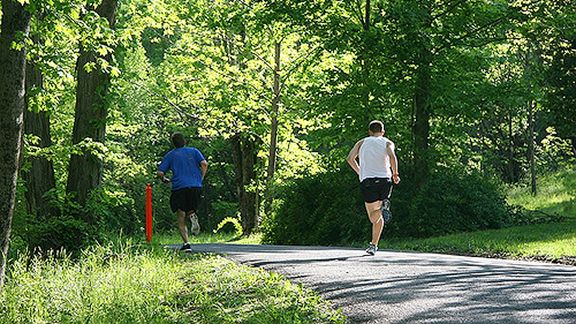 Karen Lee for ESPN.comESPN.com associate editor Rob Booth (right) runs with Ragnar founder Dan Hill.
DOBBS FERRY, N.Y. -- I sit around a table with new friends, all exhausted from the combination of sleep deprivation and the fact that over the past 25 hours and 55 minutes we had pushed our bodies to the limits.
The sound and beauty of the Hudson River just a few feet away calms me. Then the band begins to sing "Sweet Caroline, good times never seem so good …."
I am at the Ragnar Relay New York presented by NordicTrack, a 184.1 mile running relay that begins in Woodstock, N.Y. and ends just outside of New York City. The way the relay works is that each runner is assigned three legs of the course, each with varying distances and degrees of difficulty.
Teams of 12 people continually run throughout the day and night until the distance is complete. As a matter of fact, Day Two, 6:45 a.m., found me face first on the floor of a middle school gymnasium, with hundreds of others, all trying to get a few winks of sleep before our next legs.
While one teammate is running, the others drive in two designated vans along the route, supporting and aiding the runners along the way -- or in our team's case, blasting Miley Cyrus at every stop.
I was part of team ESPNNewYork.com, and we were joined by the co-founder of the Ragnar Relays, Dan Hill. I was lucky enough to run my first leg of the adventure with Hill. Over the 8.2 mile run, I was able to get a feel for the Ragnar history and culture.