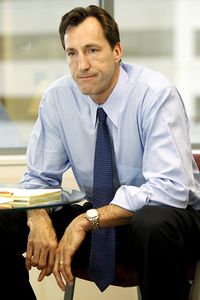 AP Photo/Rick BowmerFormer NBA player Chris Dudley won the Republican gubernatorial nomination for Oregon.
PORTLAND, Ore. -- It's been a long time since Chris Dudley has been called a rookie.
But the day after Dudley -- who rebounded his way through the NBA for 16 years -- defeated businessman Allen Alley and seven other Republicans to win the gubernatorial GOP nomination during Tuesday's Oregon primaries, the 6-foot-11 former center now sets to face wily veteran Democrat John Kitzhaber in November's general election.
"I'm the type of person, that I don't worry about what I can't control," said Dudley, who plans to "bring fresh ideas" to public office if he's elected. "It's a case where you do everything you can do and let it go and see how it works out. I feel good about the reaction we've had and the energy that is out there."
Now Dudley will get back to life on the campaign trail. After a busy morning of events on Wednesday, Dudley is getting a quick taste of what the next six months will look like: the Oregon Democratic Party wasted little time unveiling a website attacking him.
Let the games begin.