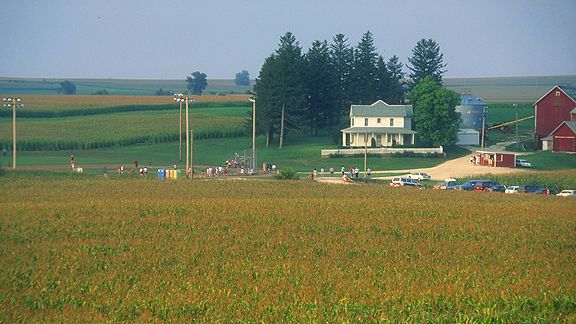 Jonathan Daniel/Getty ImagesFor $5.4 million, you can owe the Iowa property used in the movie "Field of Dreams".
Every year, 65,000 people travel 75 miles off the beaten path of the closest major highway to Dyersville, Iowa, to catch sight of baseball diamond carved out of a cornfield.
Now, signs directing the legions of station wagons and minivans to the region have been joined by new one … a "For Sale" sign.
The storied property made famous by the 1989 film "Field of Dreams" is now up for sale, and for $5.4 million, the baseball field, the two-bedroom house, six outbuildings as well as a concession stand can be yours.
Page 2 recently caught up with Ken Sanders, the real estate consultant and former major-league pitcher, to talk about the sale of the property owned by Don and Becky Lansing.
How did you get involved?
I used to help run baseball fantasy camps there for kids where we had players come out right out of the cornfield. So, over the years I got to know Don and Becky pretty well, and they knew I was a real estate agent so when the time came they called upon me.
Have you fielded some pretty interesting inquires involving the property?
Some people have asked about building a hotel right on site, hosting a minor-league club, and even constructing a water park. Don't forget that as a 193-acre parcel of land, it is still ideal for a working farm.
What would you like to see happen?
I'd like to see it preserved in some form that is in now vs. the over commercialization of it. The Lansings have been great caretakers of the field as the land has been in their family for over 100 years and and hopefully the new owners will have it well into the next century.
Do you think the place is haunted?
I have heard stories of people suffering from cancer and other illness traveling from as far as Florida to seek comfort from the field. It is a very special place. … it definitely has some ghosts.
Is this heaven?
It's Iowa.
Is this real estate heaven?
We'll find out shortly.