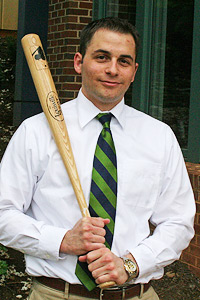 Brian Moynahan for ESPN.comJohn Scaglione is part of an elite fraternity in Major League Baseball.
Before he became a staff accountant with a small firm in Virginia, John Scaglione played a little baseball. Coming out of Palm Beach Gardens High School in 2003, he was good enough to be drafted by the Atlanta Braves with the 1,480th and final selection in the first-year player draft. A middle infielder, he was taken as a draft-and-follow; because he was attending junior college, the Braves owned his rights until one week before the next year's draft. When the time came for a decision on Scaglione the following spring, however, the organization couldn't make a deal happen.
"The scout that picked me up didn't get to watch me play much. He called me a year later and was like, 'I only saw you play once or twice, and you had a decent year, but if I was even to offer you to come and play minor league baseball, we'd have to cut another guy to bring you on,'" Scaglione says. "And I said, 'You know what, I want to stay in college baseball anyway.' So it was a mutual thing, and it worked out well."
There are 45 players out there, including Scaglione, who were chosen with the final pick since the draft began in 1965. In 1999, MLB.com formed a subset of that group when writer Jonathan Mayo and pitcher Scott Leitz created the Mr. Don't Count Him Out Award (Leitz, the 1,474th and final pick in 1999, was the inaugural winner). The grand prize is essentially an article about the player on Major League Baseball's official website.