Who knew an iPhone app could be a lifesaver? Or at least a life-changer?
Tim Stauffer didn't. But he does now.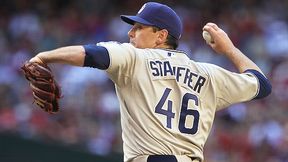 Christian Petersen/Getty Images
"For some reason or another, I haven't used it much, but I have a WebMD app on my phone," he said. "I got it a year or two ago, thought it might come in handy. First time I needed it to work, it did."
Did it ever.
While WebMD might seem better suited for a crowd older than Stauffer, who's 27, what with apps such as Legends of Wrestlemania and I Heart Radio out there to serve as invaluable time-wasters for 20-somethings, the choice to download a medical reference app may have been a lifesaver.
After all, that app on his iPhone helped Stauffer self-diagnose a serious ailment last week, leading to an emergency appendectomy.