Jake Gyllenhaal wants to set the record straight.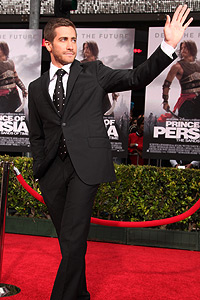 Eric Charbonneau/Le Studio/WireimageJake Gyllenhaal is eager for people to see "Prince of Persia: The Sands of Time."
"I'm really, really torn, but I think the Los Angeles Lakers will beat the Boston Celtics in the NBA Finals. There, I said it," Gyllenhaal said. "I grew up in Los Angeles and my best friends are from Boston and I lived there, too. You know how many texts my friends are sending me asking about my pick? But Los Angeles is where my heart is. Thank you for allowing me to straighten this out!"
The NBA playoffs haven't reached that point yet, but maybe Gyllenhaal is looking ahead to his own matchup. Next week, Gyllenhaal's Disney movie "Prince of Persia: The Sands of Time" will face off against Sarah Jessica Parker's "Sex and the City 2."
"My movie harkens back to the old days of 'Indiana Jones' and even 'Willow,'" Gyllenhaal said about "Prince of Persia," which follows a prince who teams with a rival princess to stop an angry ruler from unleashing a sandstorm that could destroy the world. "I'm chomping at the bit for people to see it. I know you want to open strong but we want longevity."
Gyllenhaal, who previously played diverse roles in "October Sky" and "Brokeback Mountain," knows the audiences will be different and is eager for the public to see the movie based on a video game. He trained for six months, gained about five pounds of muscle and also did a lot of stunt work for the movie, which took two years to make.
"Yeah, it's such a difficult job, getting paid to get into shape," he joked. "I'm an active person, but I was forced to eat mostly protein and steamed vegetables. For a treat I'd get a Snickers bar. I was so craving it. I would have torn someone's head literally off if they didn't give me my candy bar!"