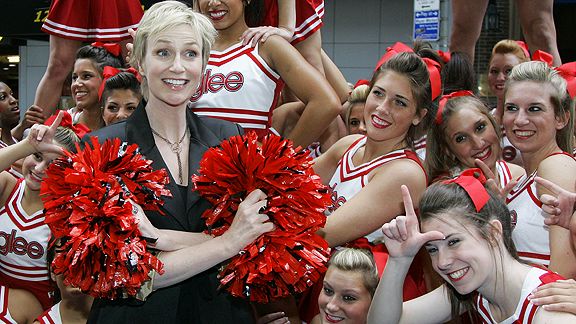 AP Photo/Jeff ChristensenActress Jane Lynch and the cast of the TV show "Glee" will follow next year's Super Bowl.
In case you missed it, this was just strange. "Glee" will be the show that gets the special post-Super Bowl treatment by Fox on Feb. 6. "Glee?" Really?
"The Super Bowl is so big there are many shows that are not the most compatible that still benefit from such a wide audience," said Fox Entertainment President Kevin Reilly somewhat defensively. He added that "Grey's Anatomy" did well some years back when it had an episode after the Super Bowl.
Seriously?
Brunch imagines this is what it sounded like when Mr. Reilly broke the news to the cast:
"Hey, gang, you're going to be on after the Super Bowl!"
(Silence.)
"Uh, the Super Bowl -- biggest football game of the year!"
(Crickets.)
"You know, football. Remember that thing that Finn and Puck were supposed to be playing after school? And, guess what? For this Super Bowl episode, you'll all do a number wearing special 'Glee' football uniforms!"
(A question.)
"Yes, Kurt, all football players have sequins on their uniforms."
(The clincher.)
"Now who wants to play the most important position in football -- Quarterdiva! That's right? Just like Brett Favre!"
And now to the main courses of the Brunch: