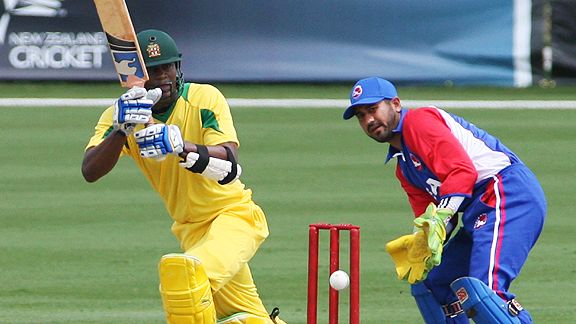 AP Photo/Jeffrey M. BoanJamaica's Marlon Samuels bats the ball as U.S. keeper Ashhar Mehdi tries to gather the ball.
History was made on Saturday at the Central Broward County Regional Park Cricket Stadium in Lauderhill, Fla., as New Zealand took on Sri Lanka in The Pearls Cup.
International cricket had finally come to America.
Paced by Ross Taylor, New Zealand finished 120 for 7 to beat Sri Lanka by 28 runs. Before that match, Jamaica beat the United States by 47 runs in the first Twenty20 matchup between the countries.
The four teams will return for more matches Sunday, and the matches will air live on ESPN3.com noon ET Sunday.
On Saturday, the matches were broadcast to an estimated 88 countries and 100 million-plus viewers.
"We've been waiting a long time for this," Don Lockerbie, the chief executive of the U.S.A. Cricket Association and one of the main promoters of The Pearls Cup, told Cricinfo.com. "We took a view to try to bring in the best teams in the world and show that the United States is open for business as far as cricket is concerned."
A fan held up a flimsy sign saying, "Cricket in the USA rocks."
Indeed, it does.