The Golden State Warriors found themselves in a bit of a predicament.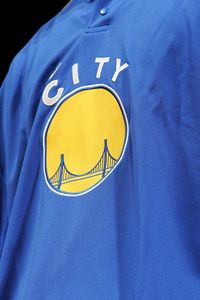 Rocky Widner/NBAE/Getty ImagesLeaks around the Web indicate the new Warriors logo has similarities to their original design.
Die-hard fans had been leaking the team's new logo on message boards, blogs, Twitter and Facebook -- which it had yet to unveil to the masses.
So the Warriors decided to insert themselves into that very conversation and unveil the logo to a wider contingency of everyday Golden State fans.
"We decided to flip the traditional logo unveiling on its head," said Kyle Spencer, executive director of marketing for the Warriors. "We're taking advantage of our fans' enthusiasm for finding our logo by making an Easter egg hunt game out of it, utilizing social networks and platforms."
The contest, constructed in-house and officially dubbed "Warriors Draft Challenge," works like this: First, sign up on Warriors.com. Then on each weekday from May 20-31 -- nine days in total -- there will be a challenge question tied to the Warriors' official Facebook, Twitter, YouTube or Flickr accounts. Figure out the answer, type in the clue and if you're right, 1/9 of the Warriors' new logo is revealed. Get all nine correct and on the last day you'll have the logo in full.