The Philadelphia Flyers and the Chicago Blackhawks will meet in the Stanley Cup Final, pitting two of the nation's largest cities against each other with a title at stake.
Across the four major North American sports, Chicago and Philadelphia have met in the postseason 10 times and each has won five times.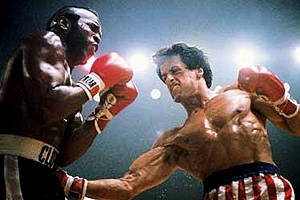 Courtesy of Chartoff-Winkler Productions In the Stanley Cup finals, it's Rocky vs. Clubber Lang all over again.
In terms of the championship round, however, Philadelphia holds a 3-1 advantage, winning two World Series and 1-of-2 NFL Championship Game meetings. The cities have not met in a championship round since the 1948 NFL Championship Game between the Eagles and the Chicago Cardinals.
However, the most fierce championship matchup between these cities took place inside the ropes …
Chicago tough guy Clubber Lang and Philadelphia underdog Rocky Balboa squared off twice in 1982's Rocky III. In the first matchup at The Spectrum in Philadelphia, Rocky lost his heavyweight crown via a 2nd-round KO to the hungry challenger. Rocky was distraught at the time, having seen his longtime manager Mickey mortally injured by Clubber in a pre-fight scuffle near the locker rooms. But later, at Madison Square Garden and under the tutelage of former champ Apollo Creed, Rocky returned the favor with a 3rd-round KO of the loudmouth from Chicago.
Notable Quotes
Interviewer: Do you hate Rocky?
Clubber Lang: No, I don't hate Balboa. I pity the fool, and I will destroy any man who tries to take what I got!