Pelé has done it all.
He is the most famous soccer player in history. He won three World Cup trophies. He was a United Nations Ambassador. He has a postage stamp. He has appeared in a video game. And he even composed music for the soundtrack about the movie of his life.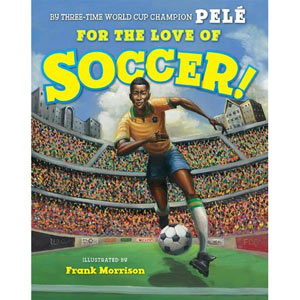 Courtesy of Disney PublishingPelé's book called "For the Love of Soccer!" is available on Amazon.com and various bookstores.
And now he's written a children's book: "For the Love of Soccer!"
"I think it's a perfect time to write this," said Pelé, whose real name is Edison Arantes do Nascimento. "With the World Cup coming up, it's time for this generation of readers to understand and love soccer."
The book, available Tuesday on Amazon.com, follows Pelé as a young child getting interested in the sport that he made famous and describes how a young fan tries to follow in his footsteps.
"In 1975, I came to the New York Cosmos to promote soccer to the United States. People didn't understand that. They thought I should have gone to Europe," Pelé said. "But I wanted to come here to promote the sport. It's the same with this book. I want to promote soccer."
Pelé was born Oct. 23, 1940, in a small town in Brazil. His father was a pro soccer player and Pelé wanted to follow in his footsteps. He didn't imagine it would lead to all he has accomplished. He officially retired in 1977 but has spent the past 30 years traveling the world talking about soccer.
"Writing this book has really allowed me to come out of retirement," he said, "and give something back to the people who love me and love the game."