Finally, Denver Nuggets forward Carmelo Anthony will walk down the aisle with his longtime girlfriend La La Vazquez.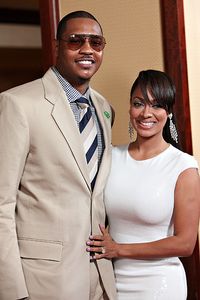 Jesse Grant/WireImageMelo and La La are finally getting hitched -- and we're all invited.
They've been engaged for years, but Melo swears he wasn't making her wait.
"If anything, I was waiting for her to slow down," he tells Latina magazine, which featured her on its April cover. "She was doing her own thing, handling her business and we were happy. When it was time to take it to the next step we did. Period."
The next level comes this summer; a grand wedding affair with all the trimmings.
Even better news? We're all invited.
The couple has started filming a five-part reality show series that will air in the fall on VH-1. It'll be four 30 minute episodes that will feature wedding planning activities -- you know, real guy stuff -- and it'll culminate with a one-hour wedding special. The series will open with Vazquez -- she's had a longtime relationship with VH-1, most notably hosting those much-watched reality love show specials, and she also worked as an MTV veejay -- meeting with Mindy Weiss, an A-list planner to the stars, and will mostly focus on the bride-to-be.
We'll get a peak at her shopping for a wedding dress, picking out the wedding venue, making the final call on a cake and the menu. We'll also get to see her and Anthony pare down their guest list (are we on it?) and figure out where they'll head on their honeymoon. Most importantly? We'll get to see La La's celebrity bachelorette party in Las Vegas; no doubt her BFF Kim Kardashian will be in the mix too. No word on if cameras will follow Melo's bachelor party. The wedding happens in New York City, July 10. The series starts Sept. 19.