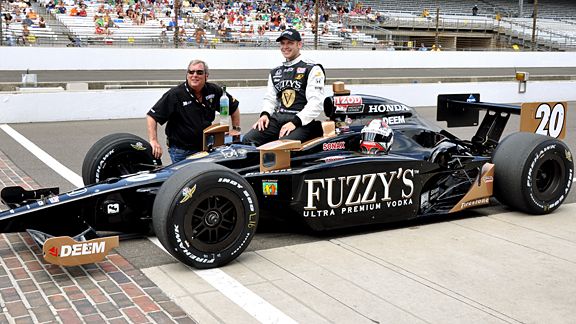 Courtesy of Fuzzy ZoellerSenior golfer Fuzzy Zoeller's Vodka company is sponsoring Ed Carpenter in Sunday's Indy 500.
While Champions Tour golfer Fuzzy Zoeller insists he lives life in the slow lane, that figures to change with a new vodka brand bearing his name.
Zoeller is sponsoring a car in Sunday's Indy 500, driven by racer Ed Carpenter. The black No. 20 car will bear the signage Fuzzy's Ultra Premium Vodka.
"I thought, 'What the heck?' We have a new product on the market and where else do you have 300,000 screaming idiots, so it works," said Zoeller, an Indiana native, during a pro-am at the Senior PGA Championship in Denver. "Plus, it's an outstanding car. It's got lots of speed."
After playing a six-hour round at Colorado Golf Club in windy conditions Tuesday, Zoeller couldn't wait to show off his premium drink in a Fuzzy tonic.
"After walking this and playing this, I need a drink," he said, before opening a bottle for his playing partners in the locker room.
Zoeller insists he's long been a fan of racing, be it NASCAR or the Indy circuit.
Just don't expect to see him get in one of those cars.
"I have no interest," he said. "I'm a 45-50 [mph] man, not 240 and not 250. I'm in the right lane all the time. But it's amazing the talent those kids have."