DETROIT -- Johnny Damon has always fancied himself a bit of a fashionista, especially when it comes to his hair.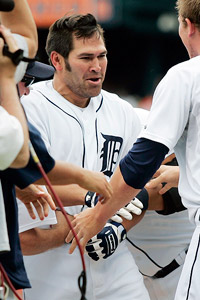 AP Photo/Duane BurlesonDamon's look is viral in Motown.
Whether it was long and flowing in Boston or neat and trim under George Steinbrenner's watch, Damon and his much-ballyhooed locks have been intrinsically linked.
Not that Damon seems to mind.
"At least it takes away from people paying attention to what I do playing baseball," the 36-year-old veteran said. "But I dig myself and especially if my wife digs me, I dig myself more."
Damon's wife was actually behind the well-coiffed outfielder suggesting teammate Alex Avila fashion a mohawk out of a perfectly acceptable head of hair.
Damon had done his homework, scoffing at former Yankee teammate Nick Swisher's faux hawk before finding a stylistically pleasing model in Mariners' pitcher Brandon League.
So two years after his wife started nudging him and after giving careful consideration to League's take on the mohawk, Damon made the change.