The talk is swirling about where Phil Jackson -- who, by the way, is coaching a team currently tied 2-2 in the NBA Western Conference finals -- will coach next season. Since Jeannie Buss, his girlfriend and Lakers executive, isn't leaving Los Angeles any time soon, the Lakers are definitely Jackson's best option.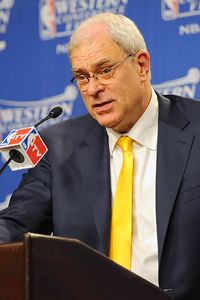 Andrew D. Bernstein/Getty Images
Not because of love. Because of fashion. If Phil leaves, who will pick out his clothes for him?
What, you think Jackson went from his '90s look to today's without a manicured helping hand? Check out some old pictures. Pat Riley wouldn't be hung in this tie. The Zen Master's salt-and-pepper soup strainers surely made Mike Ditka proud, but his beard screamed "Honey, please let me back in the house." He also had more of a hairdo than a haircut, because he surely needed to get that stuff cut.
Then Phil went to Los Angeles and met Buss, who certainly wouldn't be seen in public with anyone who looked like that. Since then, Phil has been smooth. His haircuts are on point, and his suits are tastefully understated. He looks cared for.
As Jared Allen can attest, a good woman can save a man from himself. Thanks to Buss, Jackson can crack on Craig Sager's ties with a straight face. Fifteen years ago, he might have asked to borrow one.
Other teams might give Jackson more money, but none can give him style. He had to marry into that.
Well, not "marry" …