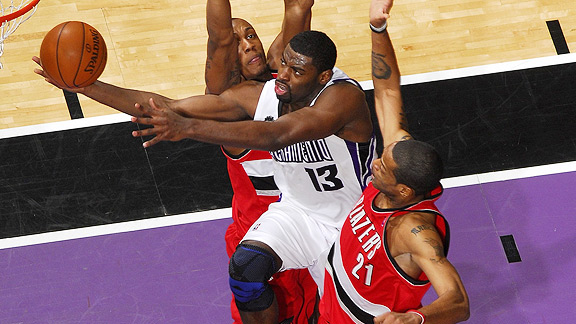 Rocky Widner/NBAE/Getty ImagesTyreke Evans is so serious about gaming, he takes a 2K Sports travel kit with him on the road.
If you think Tyreke Evans is a beast in Sacramento, you should see him online. That's because the NBA's reigning rookie of the year is as deadly a finisher on the virtual courts of "NBA 2K10" as he is on the real hardwood reppin' the 916.
And to help feed his ever-growing gaming addiction, 2K Sports sent Evans a custom-made gaming briefcase so the scorer never has to be far from the franchise he grew up playing (and now stars in). Inside the case is an Xbox 360, two controllers, a folding LCD screen and headphones -- complete with a royal nameplate (just in case he loses his luggage) and, of course, a copy of "2K10."
"People saw the case and wanted to know where they could buy one in stores," Evans says as he sits by the setup, complete with a diamond "Reke Havoc" chain around his neck. "I had to tell them that I had the hot commodity. They were a little jealous.
"A lot of guys on the team enjoy the game, so they all want to carry the case around with them. I let them borrow it every now and then, but it's nice because we can play the game in the room."