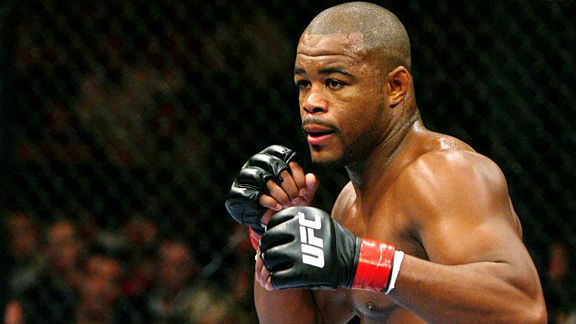 Al Bello/Getty Images
Rashad Evans joined ESPN 1000 in Chicago with Waddle and Silvy to talk about his upcoming fight against Rampage Jackson and whether or not he and Rampage really don't like each other.
Evans on whether the animosity between himself and Jackson is real:
"No, no that's all real, that's all real. We had gotten into it when he fought my teammate [Keith] Jardine, and after that, he got into it on my personal time. And from then on it was just like not liking each other. Then after the show on 'Ultimate Fighter 10' we got into it. At one point I thought that I was like a little kid again. I would go into practice and be like, 'Listen, I'm not getting into this little kid arguing back and forth,' and next thing you know I find myself arguing with this fool. I'm like, 'Dang, how does he get me every single time?'"
His thoughts on Jackson's status in the sport today:
"In his last few fights I haven't been overly impressed. ... His performance is lazy. He's a fighter that is pretty much ready to move on and do something else. He's been in the game for a long time; he's been in the game since I was a college wrestler. ... And when we do anything for a long time, it starts to become a job. And it's become a job for him, whereas me, I still love it."