According to a new survey, 95 percent of Germans would rather watch their national team play in this year's World Cup final than have sex. Surprising? Not really. Soccer is just the latest entry in a long line of activities that poll respondents supposedly prefer to getting busy. Consider: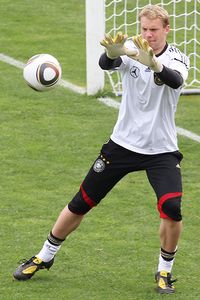 Joern Pollex/Bongarts/Getty ImagesManuel Neuer and his German teammates might be responsible if
birth rates are lower in 2011.
BOOK READING
Year: 2010
Survey of: 2,000 married women ages 18-49
Notable: While 16 percent would rather read, a whopping 41 percent would rather get an hour of sleep. No wonder Sarah Palin is a best-selling author.
FACEBOOK
Year: 2010
Survey of: 4,000 British adults
Notable: As a favorite bedroom activity, sex actually came in sixth, behind sleeping, reading, watching TV, surfing the Internet and listening to music. Obviously not Marvin Gaye.
VIDEO GAMES
Year: 2009
Survey of: 1,130 British men
Notable: Seventy-two percent of respondents would pass up knockin' boots to play a new release. And British gamers don't even care about "Madden"!
GOLF
Year: 2006
Survey of: 4,500-plus male and female golfers
Notable: Given the choice between a tee time at Augusta National and abstaining from sex for a year, 32 percent of men and 31 percent of women chose the tee time. Insert Tiger Woods joke here.
BACON
Year: 2010
Survey of: 1,006 Canadians
Notable: Forty-three percent of respondents to a completely nondubious poll conducted by a food company said they'd take bacon over sex. The other 57 percent are lying.