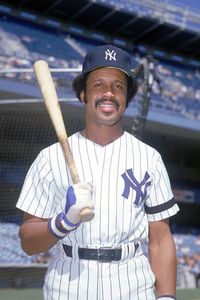 Louis Requena/Getty ImagesOscar Gamble's famous hair is the epitome of the '70s.
The 1970s are rarely (ok, never) described as a golden era in baseball. The sport certainly experienced its share of colorful moments and flashy personalities during the decade, but Disco Demolition Night and Mark Fidrych are not discussed in the same hushed tones as Bobby Thomson's Shot Heard Round the World or the 1955 Brooklyn Dodgers.
Notwithstanding Hank Aaron's assault on Babe Ruth's career home-run record and Lou Brock's new single-season mark for steals (118 in 1974), the decade was short on gaudy statistics, too.
"Nobody hit .400 in a season, or won 30 or more games. Only one player -- George Foster in 1977 -- managed to hit more than 50 home runs in a season," writes Dan Epstein in Big Hair and Plastic Grass: A Funky Ride through Baseball and America in the Swinging '70s. "But in those categories that continue to defy statisticians -- weirdness, hairiness, overall funkiness, and sheer amusement -- the 1970s still tower over every other decade before or since."
You don't have to remember where you were when Dock Ellis pitched a no-hitter on LSD to appreciate the unique confluence of sociological elements that came together during that era of baseball, when "the rebellious, anti-authoritarian spirit that had been so palpable on college campuses since the late 1960s seemed to have finally infected the sport," writes Epstein, 44, a music journalist by trade who's written for Rolling Stone and is the managing editor of Shockhound.com, a music Web site. "If the integration of baseball in the 1940s and '50s sparked changes in American culture, then the '70s was the decade where the changes in American culture turned back around and impacted baseball. Even during the turbulent 1960s, baseball players looked, spoke, and played as conservatively as their counterparts in decades past."