To members of the general public, the auction is outrageous.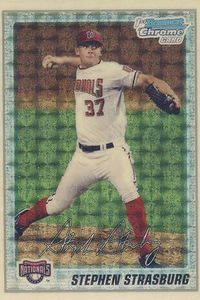 Bowman Is this card really worth about $17,000?
To collectors, it's that dream card they rip into countless boxes to find. (And, yes, it's still outrageous.) Sure, it features the image of a player who has yet to suit up for an official major league game. But in a high-dollar world of sports memorabilia where bragging rights and deep pockets often dictate the market, it's the latest "it" card that might have a millionaire or two considering collecting baseball cards.
It's a 2010 Bowman Chrome Prospects SuperFractor card of Washington Nationals pitcher Stephen Strasburg -- and it's currently sitting at $16,203 after 83 bids in an eBay auction that ends Saturday evening.
What makes it so special? Only one copy exists. And the odds of finding a SuperFractor of any of the 110 players in the set were one in every 11,000 hobby packs. (You can do the math to approximate the odds of specifically finding Strasburg.)
Unless you've been ignoring baseball this season, you know who Strasburg is -- he's the $15 million righty from San Diego State who has blistered minor league batters this season, going 6-1 with a 0.99 ERA and 54 strikeouts in 45 innings. He's expected to make his debut in a Nationals uniform early next month and is one of the most dominant pitching prospects in years. (And this dominance is nothing new as he went 13-1 with a 1.35 ERA as a junior last season for the Aztecs, striking out 195 batters in 109 innings, and had a 23-strikeout game in 2008.)