There are countless examples of where military service and the sports world have entwined as we celebrate Memorial Day and remember America's fallen soldiers.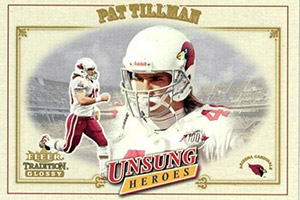 Fleer for ESPN.comFormer Arizona Cardinals Pat Tillman appeared in the 2001 Fleer set of Unsung Heroes.
Greats like Boston Red Sox slugger Ted Williams, Pittsburgh Steelers halfback Rocky Bleier, San Antonio Spurs icon David Robinson and former world heavyweight boxing champ Gene Tunney are among the countless examples of American pro athletes who served in the military.
However, only a handful of those athletes died defending the Stars and Stripes.
The most memorable of those athletes for this generation is Pat Tillman, the former Arizona Cardinals safety who turned down a multi-million dollar NFL contract extension to enlist in the U.S. Army in the wake of the September 11, 2001, terrorist attacks. Less than a year after he was deployed overseas for a second time, he was killed in Afghanistan.
As a result of his death in 2004, what little sports memorabilia Tillman appeared on at the time skyrocketed from pocket change values into a name-your-price feeding frenzy that drew plenty of critics. (Meanwhile, it's a natural occurrence in the collecting world as fans who put off picking up memorabilia often are among those looking to find an item after a notable achievement or an athlete's death.)
Today, more than six years after his death and days after he was announced as one of this year's group of College Football Hall of Fame inductees, Tillman's place in the hobby remains secure.