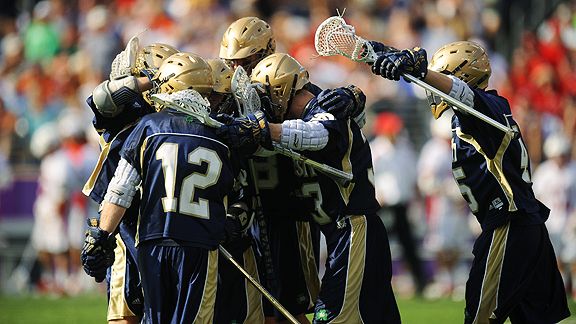 Mitchell Layton/Getty ImagesNotre Dame plays Duke on Monday on ESPN in the men's NCAA lacrosse championship.
Duke, a heavy favorite, faces off against a rag-tag squad from Indiana in the national title game. Sound familiar?
Weeks after taking on the Butler Bulldogs in the NCAA basketball finals, Duke will clash with Notre Dame in the NCAA lacrosse national championship on ESPN Monday at 3:30 p.m.
The unseeded Irish -- who many believe shouldn't have made the tournament -- are a true Cinderella as they knocked off traditional lacrosse powers No. 6 Princeton, No. 3 Maryland and No. 7 Cornell on their way to the finals.
Unlike Butler, who were still relatively highly rated heading into their tourney, the unranked Irish were literally the last team picked to play in "May Madness."
Nonetheless, the Fighting Irish have proven their mettle and perhaps the team hailing from the Hooiser state can call upon the spirit of actor Dennis Hooper who passed away over the weekend for some inspiration or even a play or two.
Check out ESPN.com's coverage of the tournament.