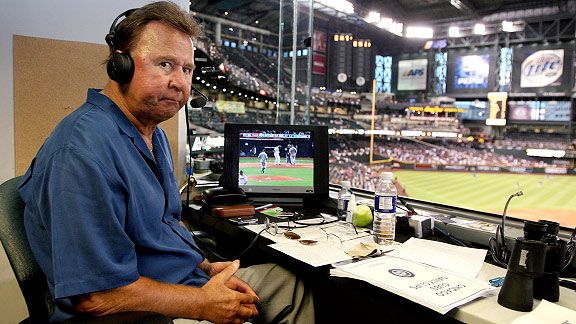 AP Photo/Rick Scuteri"I love people, I love the fans, I love this game," broadcaster Ron Santo says.
CHICAGO -- There is no elevator leading directly to Ron Santo's office, the WGN Radio booth, a perch sitting high above Wrigley Field. So every day, he must traverse a series of ramps and a flight of stairs in order to get there.
It's no easy feat for an able-bodied person, let alone a man who gets around on two prosthetic legs.
"It's like having my leg except it takes more energy when you're going up stairs and walking a long distance, so you're using, like, 55 percent more of your energy walking," said Santo, the legendary Cubs third baseman turned radio broadcaster. "You get used to it. I can't complain. I'm alive. I'm happy I'm doing everything I want to do, so I have no problems."
Complications from diabetes forced doctors to amputate both of his legs below the knee. For the better part of the past decade, the 70-year-old married father of four grown children has had the prostheses, which he says weigh about four and a half pounds each.
Santo, the only diabetic ever to play a full career as a position player in the Major Leagues, has used his celebrity to help raise over $50 million for the Juvenile Diabetes Research Foundation.