When the Lakers and Celtics met in the 2008 NBA Finals, it was a familiar uniform matchup, as the two franchises were facing off in the championship round for the 11th time. But something was different: The Celtics, who had worn dark sneakers at home throughout the Bill Russell and Larry Bird eras, were wearing white kicks in the '08 Finals, reflecting a footwear change they'd made four seasons earlier.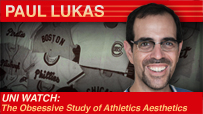 But Rajon Rondo is single-handedly resuscitating Boston's old-time sneaker heritage. Lately he's been wearing black sneakers at home (and occasionally green) while his teammates wear white. The situation is mirrored on the road, where the other Celtics wear black but Rondo wears white (well, usually).
Will these sneaker shenanigans lead to a fine from the league office? Nope. "As long as the colorway on his sneakers is in team colors, he is fine," said NBA spokesperson Kristin Conte. "The entire team does not have to wear the same color -- just team colors."
No word on what Rondo will be wearing when the NBA Finals open this Thursday. But he hasn't found a way to wear his sneakers upside down like he wears his headband. At least not yet.