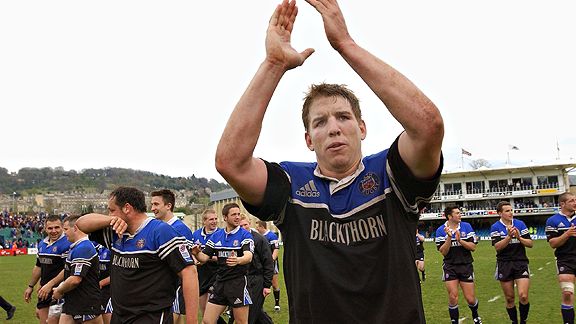 John Gichigi/Getty ImagesFormer VMI tight end Dan Lyle salutes Bath Rugby fans after a 2002 victory over Leeds Tykes.
Fourteen years ago, Dan Lyle made a decision that made his pals want to check his temperature.
At 25, he was struggling to get a job playing professional football. After a few training camp tryouts, he finally got the call he'd been waiting for -- the Minnesota Vikings wanted him. That offer sounded good; the former Virginia Military Institute tight end could have fulfilled his lifelong dream for a league minimum salary, about $170,000 at the time.
But he passed.
Instead, he packed up and headed to Europe, choosing to play rugby for the Bath Football Club, a premiere team in England.
What?
"They looked at me like I'm crazy. The NFL is the penultimate. And I thought about that. But something was pulling me in the other direction. I had an opportunity to do something no one has ever done before," Lyle said, pausing before speaking again, "and I have had not one regret doing it."