Doc Rivers has coached the Boston Celtics to their second NBA Finals appearance in three seasons.
He recently talked about the various storylines in the upcoming series against the Los Angeles Lakers.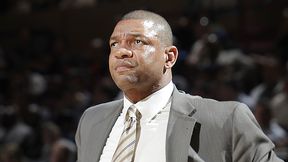 Paul Bereswill/Getty Images
Rivers on the Lakers-Celtics rivalry:
"You don't want them to beat you. And that's just the bottom line. Let's say you were playing Phoenix. You still would want to win the world championship, obviously. But you're playing the Lakers, and it's like you're thinking more about we want to beat them and less about wanting to win the title. And that's probably good."
Rivers on mismatches that Lamar Odom creates:
"He's one of the few bigs in the league that rebounds the ball, brings it out and then leads to their break. That's a very difficult challenge for us. It creates mismatches. It ends up where a guard has to take the ball. Now we have bad matchups around the floor. He's been very effective against us doing that. So that is our big concern with him."
Rivers on whether players feel disrespected by being called underdogs:
"Nah, we don't think that way. We don't care what others think. But we believed going into the playoff rounds that we could get here and win it."
• Click here for transcript highlights from Sports Radio Interviews.