Everyone in America knows Jim Joyce's name Thursday.
But here's the thing: If you follow baseball, chances are you already knew Joyce's name. And Joe West's, and Angel Hernandez's, and Hunter Wendelstedt's, along with dozens of other umpires' names.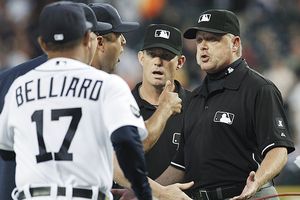 AP Photo/Paul Sancya
But in the NFL -- the league with so many missed calls that there's a mechanism to reverse them -- all the officials except the referees are largely anonymous. Quick, can you name a single NFL head linesman? How about a side judge, field judge, back judge or umpire? They blow calls all the time, yet they're utter ciphers.
Why is that? Is it simply because baseball has so many more games, so the umps' names get drilled into our heads more frequently? Is it because the networks barely mention the NFL officiating crews, while it's routine for baseball TV crews to list the four umps at the beginning of the game?
None of this exonerates Joyce, of course. But it's interesting that baseball umps essentially operate as public figures, while NFL officials enjoy the cloak of obscurity, no matter how many of their calls end up being overturned by instant replay.