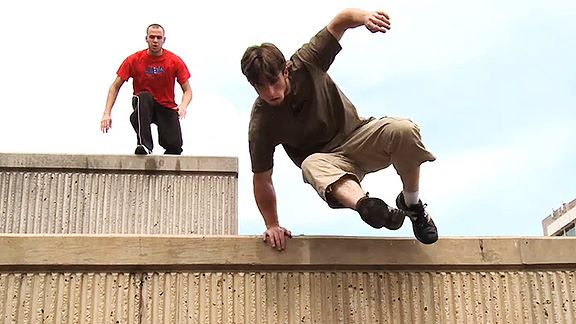 AP Photo/Charles Dharapak
The boys laugh and shoot one another knowing side glances when they're reminded of an episode of NBC's wildly popular "The Office."
In the opening of Season 6, characters Michael Scott (Steve Carell), Andy Bernard (Ed Helms) and Dwight Schrute (Rainn Wilson) are obsessed with Internet parkour videos. The three guys attempt to do it themselves inside the office and around the complex, yelling "hard-core parkour!" while jumping off boxes and trying to scale walls.
The characters fail miserably, but it was nevertheless hilarious, and the type of thing that is helping to catapult parkour into the pop culture consciousness. That episode of "The Office" was an indicator that this hybrid sport -- a non-competitive series of jumping and climbing movements mixed with mental toughness -- had hit the mainstream.
There were other signs, too: Janet Jackson uses a form of it in a music video. In "Cop Out," Seann William Scott's character is a drug-addicted petty thief who also is in love with parkour. In "Iron Man 2," sexy starlet Scarlett Johansson uses a few parkour moves, and most recently in "Prince of Persia: The Sands of Time," Jake Gyllenhaal uses parkour movements to escape and move about in the film.