Dallas Mavericks owner Mark Cuban is seldom at a loss for words. He's a refreshingly candid voice in a sea of clichés.
So when he spoke up about the New Jersey Nets' new billionaire playboy owner, disgraced ref Tim Donaghy and his own affiliation with the "Girls Gone Wild" franchise in a recent interview, we dropped everything to listen.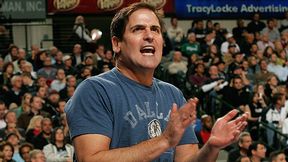 Tim Heitman/NBAE/Getty Images
Cuban on Donaghy saying the Heat beating the Mavs in the 2006 NBA Finals was more about the league disliking Cuban than Dwyane Wade's greatness:
"You really wanted to ruin my day, didn't you? There's nothing to say. All you have to do is look at the video and it says it all. I've already paid my dues on that one ... I knew what was coming and it came."
Cuban on new Nets owner Mikhail Prokhorov:
"I haven't met him yet. I took Russian in high school and a little bit in college, so I can't wait to give him a hard time. I want to party with this dude. Can you imagine him on South Beach when they're playing the Heat?"
Cuban on David Stern's reaction to his affiliation with "Girls Gone Wild":
"He's a regular viewer. What do you mean? Look, every owner has a ton of different businesses. It's like if Comcast shows a show on NBA Universal, is the NBA going to get mad? It's a television network. The NBA has no say in it. Who cares? It's a completely separate business. The NBA has no say."
• Click here for interview transcript highlights from Sports Radio Interviews.