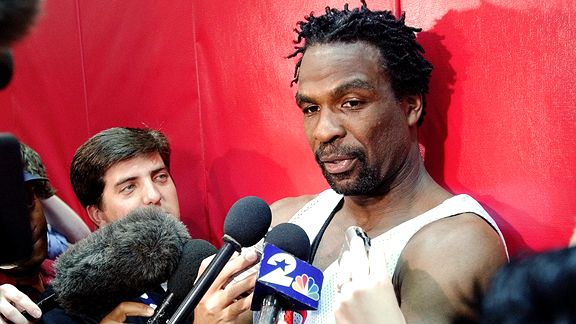 AP Photo/Pat SullivanCharles and microphones were born to be together.
Charles Oakley always speaks his mind, so when he stopped by WQAM in Miami to talk to Sid Rosenberg about LeBron James, Dwight Howard, Scottie Pippen, his Knicks, and Isiah Thomas of course we're going to listen. Oh, just don't ask him about his arm.
Oakley on LeBron going to New York:
I said maybe Chicago or Miami ... I think him and Wade would be great together. I can't tell him to go to New York. New York treated me bad ... When I go to the Knicks games, do you know that they have somebody that follows me around to see what I say to the press?"
Oakley on Dwight Howard:
"Dwight Howard is embarrassing Patrick (Ewing) if you ask me. He doesn't have a ball player's mind. And they tell me he is one of the best centers in the game. He wouldn't have even made the league ten years ago. He would be on the bench. They say he won't listen. Dwight won't listen. How can you not listen to Patrick Ewing?"
Oakley on the possibility of a lockout:
"With the product you got now, you better hope somebody watches you next year ... The league's bad"
• Click here for interview transcript highlights from Sports Radio Interviews.