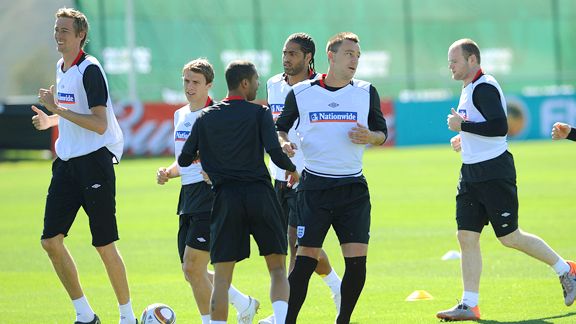 Michael Regan/Getty ImagesEngland's soccer team practices Saturday in preparation for the World Cup.
Give it up for the World Cup.
Unlike baseball's American (and one city in Canada) World Series, soccer's World Cup truly is global. And if you are the English, it's bigger.
Or as British soccer manager Bill Shankly once said, "Some people believe football [he means soccer] is a matter of life and death -- it is much, much more important than that."
England, you see, has not won a World Cup since 1966, which is tantamount to not winning a war. If you ask an English soccer fan, their slump really began when they were upset by those colonial underdogs in 1776. And you thought the Cubs were cursed.
So winning the World Cup really matters to England. It may be even more important to the British than sex. Now that's important.
At least that's the attitude of Fabio Capello, an Italian who also is England's dictatorial soccer coach. While England's team continues in the World Cup, the players' wives and girlfriends may not stay with them and will be allowed to see them once after each match.
And no sex.
How will Fabio know? He claims he will be able to watch through the TV sets in the players' hotel rooms. Doesn't that seem, you know, a little inappropriate? Not to mention kinky? Shouldn't he have to wait until the videotapes are released like the rest of us?
And now to the Brunch's tasty and diverse main menu: