Somewhat sadly this is an appropriate time to revisit one of American sports' time-honored debates: Who is (or was) the greatest coach of all time, regardless of the sport?
As we like to do here, you get to make the call.
It's topical, of course, because of the death of John Wooden on Friday at age 99. He certainly is a prime candidate for our title of All-Time Greatest Coach after his amazing basketball run at UCLA.
Orlando Magic coach Stan Van Gundy has already cast his vote: "To me and most of the coaches of my age, John Wooden was the guy -- the greatest coach who ever was. He was the coach we all followed. We were raised on his 'Pyramid of Success.'"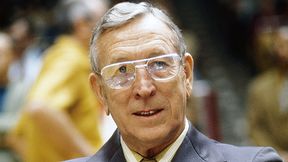 Malcolm Emmons/US Presswire
Adds Boston Celtic coach Doc Rivers about Wooden: "He was the best coach ever. He and Red Auerbach are the two guys that we talk about, the gods -- and there are two of them."
Only two? Not necessarily true even in basketball. And what about the other sports where there are giants, too?
Some other names to consider:
• Football: Vince Lombardi, Don Shula, Bear Bryant, Joe Paterno, Paul Brown and others.
• Baseball: Joe Torre, Casey Stengel, Connie Mack and more.
• Hockey: Scotty Bowman and, uh, Scotty Bowman. (OK, hockey is not my strong suit.)
• More Basketball: Phil Jackson, Red Auerbach, Dean Smith, Mike Krzyzewski, Pat Summitt and your middle school coach that taught you the meaning of life.
So vote your belief, regardless of the name and regardless of the sport. If we didn't mention the name here of the all-time greatest coach, tell us where we went wrong. Who did we miss? Send your vote to me at osogreene@aol.com. And please, please include your first name, last initial and your town.
Also it would be nice if you provided a brief explanation of your choice, emphasis on the "brief."
Oh, and because that's the way we roll, throw in a vote for the "Worst Coach of All Time" if you like.
Tennessee Vols fans, should I just count your vote for Lane Kiffin now?
You have until noon Wednesday with our Top 10 results running here on Thursday.
• SportsNation: Click here to rank the top 30 coaches in history