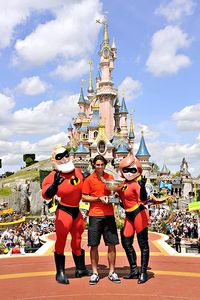 Courtesy of Disney
One day after winning the French Open, Rafael Nadal celebrated at Disneyland Paris by signing autographs and riding some attractions, including "Pirates of the Caribbean" and "It's a Small World."
He was joined in front of Sleeping Beauty's Castle along with the Incredibles.
"It's a place I love," said Nada, who routed Robin Soderling 6-4, 6-2, 6-4 on Sunday. "I often come with family."
It was the fifth French Open title for Nadal at Roland Garros, achieved in only six years.
Only Bjorn Borg, with six French Open championships, has won more. The silver-haired Swede turned 54 on Sunday; you have to wonder whether this time next year, he'll have company in the record book.