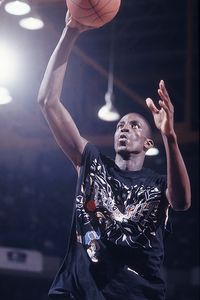 Todd Rosenberg/Icon SMIAlthough he was fairly skinny as a senior at Farragut Academy (Chicago), Kevin Garnett's game was full-grown.
Almost every day before heading off to school at Farragut Academy in Chicago, Kevin Garnett would make sure to take one last glance at the mirror.
Garnett had come a long way from the playgrounds of Mauldin, S.C., where he had become the only underclassman to be named Mr. Basketball in state history and had risen to join the elite in the high school ranks before shipping up to Chicago for his senior season. But next to his reflection stood a constant reminder of the challenges that still awaited him.
A photo, taken from the pages of USA Today, showed Garnett and the other top prep players from around the country. And after each game he played against one of the faces depicted, Garnett, as competitive at the age of 19 as he is now at 34, would draw a big X over that player's face.
"He had a hit list," said Farragut head coach William "Wolf" Nelson. "Whether it was playing with me, playing in summer league, it didn't matter. When it was clear that he was on top, he would strike them out one by one. He wanted to be the No. 1 guy."
After his senior year at Farragut, few would argue otherwise.