Rapper Fabolous stopped by ESPN's campus on Tuesday to talk a little NBA, so Page 2 asked him to break down the key players for each of the two teams in the NBA Finals. (He's a huge Lakers' fan so you know who he's rooting for):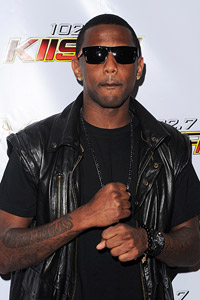 AP Photo/Katy WinnAlthough he's a New Yorker, rapper Fabolous is rooting for the Los Angeles Lakers.
Los Angeles Lakers
Derek Fisher: "Veteran. Can hit the big shot. Glad they brought him back."
Kobe Bryant: "He's just Kobe. He's one of the best I've seen with my two eyes."
Ron Artest: "He's a specialist and he gets in the minds of people he defends."
Pau Gasol: "Great scoring big man and a great addition to the Lakers."
Andrew Bynum: "Young, big man. Through time, he will mature his game."
Coach Phil Jackson: "It takes a great coach to manage great players."
Boston Celtics
Ray Allen: "He committed himself to being a great shooter."
Kevin Garnett: "He is the key piece to this Celtics' team."
Kendrick Perkins: "He is the defensive piece on the chess board."
Paul Pierce: "He doesn't always look pretty but he gets the job done."
Rajon Rondo: "As a point guard, he's doing things we haven't seen in a while."
Coach Doc Rivers: "He's a great coach who knows the game."
Oh, and on why his name isn't spelled fab-u-lous: In high school, New York-born Fabolous -- John David Jackson -- was rapping on DJ Clue's radio show, and the DJ thought the young rapper's name was "Fabulous" because he kept saying it in the song.
"DJ Clue made a mistake, but I liked the sound of it, so I kept it," Fabolous said. "And I changed the middle letter. You'd have to be really cocky to be called fabulous with a u."