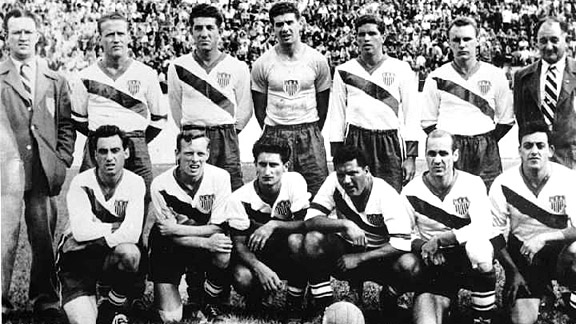 National Soccer Hall of FameThe 1950 U.S. World Cup team. Back row (L to R): Jack Lyons, Joe Maca, Charlie Colombo, Frank Borghi, Harry Keough, Walter Bahr, Bill Jeffrey. Front row (L to R): Frank Wallace, Ed McIlvenny, Gino Pariani, Joe Gaetjens, John "Clarkie" Souza, Ed Souza.
Former U.S. national team member Harry Keough laughs at his favorite memory of the 1950 World Cup match.
Keough -- who eventually won two U.S. Open Cups, seven National Amateur Cup title and coached the Saint Louis University men's soccer team to five NCAA titles -- said it wasn't just beating England, 1-0, in a group match.
It was what happened thereafter.
"The English players were very, very gallant. They shook our hands at the end of the game and said 'You chaps played well.' I was very impressed because I, myself, knew how much it meant for them to win that game," says Keough, 82. "They developed the game. And us coming in and beating them had to be a blow to them."
That's why this Saturday's matchup is so significant.